---
The Acupressure Ring improves circulation and releases tension though gentle stimulation. This unique stainless steel finger massage is designed with everyone in mind. Whether you work at home, in the office, or are constantly on the road, the Acupressure Ring can be used virtually anytime and anywhere!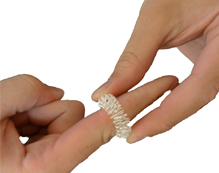 Acupressure Chinese Medicine Rings are great for giving you energy and improving your concentration.
This massage ring is based on traditional Chinese medicine and Acupressure techniques.
Acupressure Rings can be used while you study, work on computer, read or anytime you feel like it!
Simply put it on any one of your fingers and roll it up and down. The tip of the triangles stimulate various meridian points on your fingers while you roll it up and down.
---
WARNING: IF YOUR FINGERS START FEELING NUMB OR YOU THINK YOU ARE LOSING BLOOD CIRCULATION, STOP USING IMMEDIATELY.
---